Poison Hemlock: A Deadly Lookalike to Wild Carrot
Some poisonous plants hide behind a harmless-sounding, common name — monkshood and white snakeroot sound innocent enough, but poison hemlock (Conium maculatum) reveals its identity immediately. Poison hemlock is toxic to both humans and livestock and it has been the cause of a large number of fatal foraging accidents throughout history.
What Are The Active Compounds in Poison Hemlock?
Poison hemlock contains toxic alkaloids (primarily coniine and cyanapine) that can be fatal when ingested. Even a very small portion of the plant is enough to cause death. These toxins can be found throughout the entire plant, including the roots, and even touching the plant can cause skin irritation.
Poison Hemlock Poisoning Symptoms
The alkaloids within poison hemlock affect the nervous system and muscle ability, which can have serious consequences in the respiratory system. If a very tiny amount is ingested, symptoms may include muscle stiffness and sleepiness. But in most cases, symptoms involve severe nausea, paralysis, unconsciousness, and then death as the lungs fail to work and the body is deprived of oxygen.
What is the Medicinal Potential of Poison Hemlock?
Because of its effect on the muscles, poison hemlock was once used to treat conditions like muscle spasms and whooping cough. Scientific studies are limited and it is generally not recommended to create any form of homemade medicine with poison hemlock.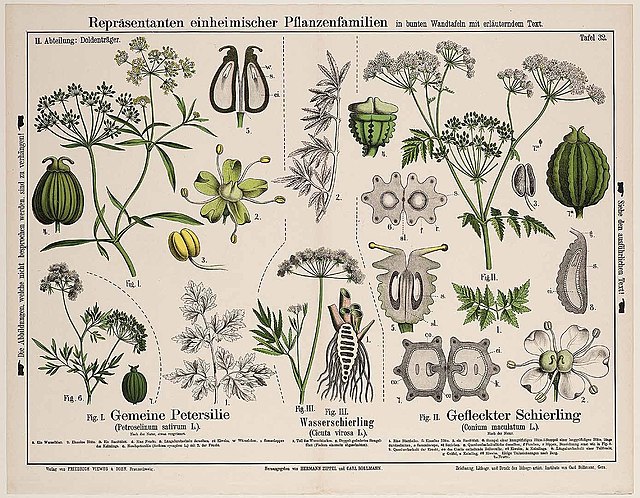 Cultural Symbolism of Poison Hemlock
Poison hemlock is not native in the US or Australia, but it is believed that seeds were brought into the country deliberately. Because of its perceived medical value in treating muscular issues, it may have been brought across from Europe and grown as a medicinal plant.
The plant is well documented throughout history as a deadly plant. Within ancient Greece, it was used as a form of execution, and over the years it was abused by individuals using it deliberately as a poison. Accidental deaths have also sadly been common. There have been a number of recorded cases of children and novice foragers unknowingly foraging poison hemlock and using it as an ingredient within meals.
Poison Hemlock Poisoning Cases
After an infamous trial in which he was sentenced to death, the famous Greek philosopher Socrates used poison hemlock to poison and kill himself.
What Does Poison Hemlock Look Like?
Poison hemlock can be mistaken for a number of edible and medicinal plants, so foragers must always follow a strict ID process.
As a member of the carrot family (Apiaceae) poison hemlock bears a few similar characteristics to some of its relatives. The root can resemble wild carrot or parsnip, and the flowers form white umbels which, to a novice, can resemble several plants within the carrot family.
Unlike its lookalikes, poison hemlock is completely hairless, and the stem also has purple blotches, which can help foragers to identify which plant they have found. If the leaves or stems are crushed, it should give off a repugnant smell, which can help aid in identification, however, it should not be solely relied upon.
Where Does Poison Hemlock Grow?
Poison hemlock is native to Europe, but it has become naturalized in almost all other continents. It can be found in damp areas, particularly along field edges, woodlands, roadsides, and even urban areas. After flowering, it can release hundreds of seeds from each cluster of tiny white flowers, so it can spread easily in areas of disturbed soil.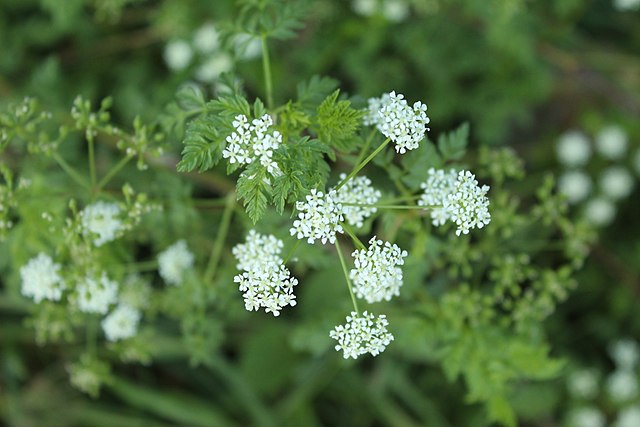 Conclusion
Poison hemlock is a plant that has had an infamous place in human history. Like any plant, it has value within its ecosystem, as pollinators and other wildlife benefit from it. However, if you find one growing in the garden, it might be worth pulling it out (with gloves!) if you have young children or pets around.