Moonseed: A Toxic Lookalike of Wild Grapes
Read about wild grapes in any foraging blog post or book and you will always come across a stark warning about their toxic lookalike, the moonseed plant (Menispermum canadense). Known as common moonseed, or Candian moonseed, it's a toxic plant that can have fatal implications if eaten. The clusters of poisonous, deep purple berries look similar to the edible fruits found on wild grapevines. And, sadly, naive foragers and children have died as a result of eating moonseed fruits.
What Are The Active Compounds in Moonseed?
The entire moonseed plant, from roots to flowers, contains toxic compounds known as isoquinoline alkaloids. The most potent of these alkaloids is called dauricine. Moonseed fruits in particular contain a high amount of these toxic alkaloids. And, unfortunately, they are the most enticing part of the plant to young children and also the plant part most similar to wild grapes.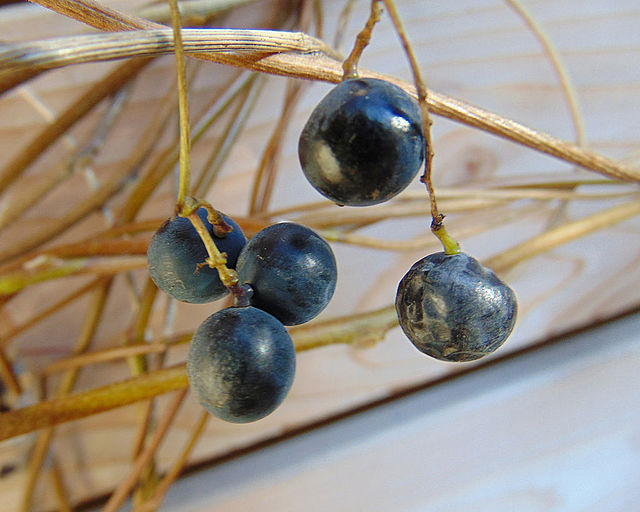 Moonseed Poisoning Symptoms
Dauricine has a severe effect on the heart as it can cause arrhythmias and interruptions to cardiac channels. The effects have been likened to those from curare, a name given to toxic substances collected from various plants in South America that were used to poison arrowheads.
Symptoms include seizures, abdominal cramps, severe nausea, and an irregular heartbeat. The effect it has on the cardiac system can prove fatal, especially in young children, or in adults that have eaten several fruits. Treatment is possible, however, it depends on how many fruits have been eaten, and how quickly a patient is admitted to the hospital.
What is the Medicinal Potential of Moonseed?
Like rosary pea and the glow-in-the-dark jack-o-lantern mushroom, moonseed could have valuable medicinal potential. Scientific studies are currently being undertaken on dauricine to explore its use in inhibiting cancer cell growth.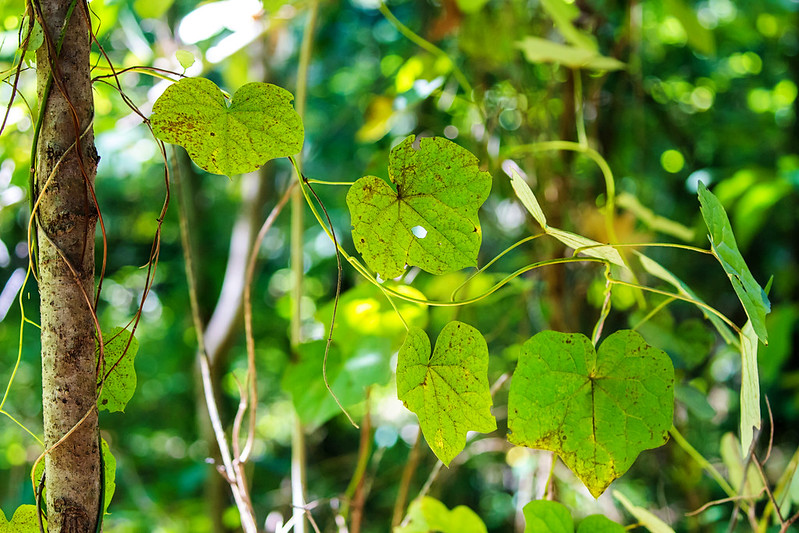 Cultural Symbolism of Moonseed
Moonseed has been used in various medical applications by native Americans and also European settlers within the US. The Cherokee and Lenape used moonseed as a diuretic, laxative, and topical treatment for skin sores and rheumatism. It was also used to treat gynecological issues and particularly cervical cancer, which is why studies are examining its potential at treating cancer.
The plant can provide attractive ground cover and erosion support to banks, and some people choose to plant or maintain moonseed in their woodland garden. However, due to the toxicity of the plant and its invasive nature, it's not recommended. While planting isn't encouraged, the plant does have a vital place within woodland ecosystems. Caterpillars of the moonseed moth feed on the leaves, and a number of woodland birds eat moonseed fruits.
What Does Moonseed Look Like?
The woody vine and lobed leaves of moonseed greatly resemble wild grape plants. One differing characteristic is that moonseed leaves have a smoother edge, compared to the serrated leaves of wild grape leaves. The fruits however are round, with a deep purple coloring, just like wild grapes. They also grow in clusters and have the white 'bloom' coating that wild grapes can have.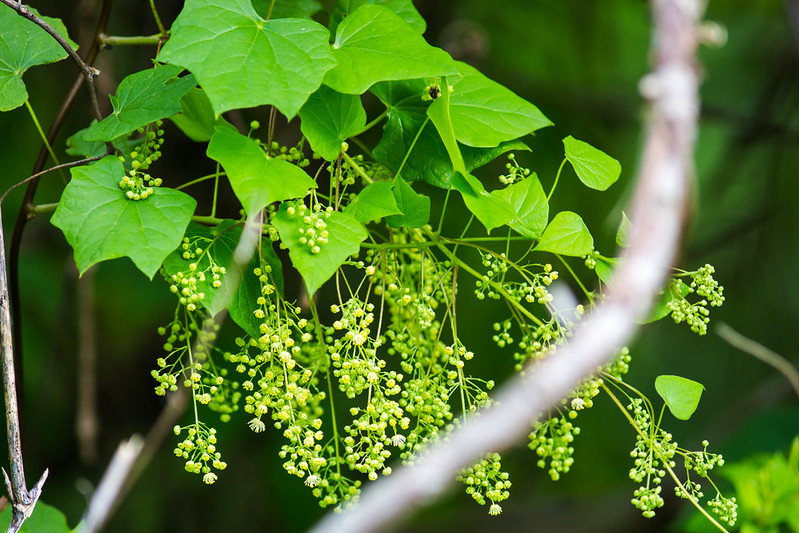 The seeds found within moonseed fruits have a unique crescent shape, which inspired the plant name 'moonseed'. If you're intending to forage wild grapes it's critical that you learn all differing characteristics between the two plants, as a mistake could be fatal.
Where Does Moonseed Grow?
Moonseed is native to southern Canada, parts of Mexico, and northeast America. There is also another species within the moonseed family that grows in northeast Asia. Like wild grape plants, moonseed can be found in moist areas of woodland in partial sun. The vines climb over other vegetation, and they can often be found growing amongst wild grapes, along streams or riverbanks. This means habitat cannot be used as a means of identification.
Conclusion
Moonseed is another incredibly toxic plant that may hold interesting medical potential. It shows just how much we can learn from plants, deadly or not, and how, throughout history, cultures amassed a deep understanding of their surrounding plant life.
Featured Image: Moonseed fruits and seeds | Photo by Nadiatalent on Wikimedia Commons