Rosary Pea: A Decorative Seed with Deadly Potential
Known for its bright red, decorative seeds and attractive leaves, rosary pea (Abrus precatorius) was once widely grown as an ornamental garden plant. The plant is originally native to Asia and Australasia. However, it has since naturalized in the US, Africa, and Caribbean islands through trade because of its ornamental appearance.
The seed's bright red coloring and unique black dot can make them attractive to infants, so children should never be left unattended around this plant.
You may see it referred to as the jequirity plant, crab's eye, or Indian licorice in older field guides. As the name suggests, rosary pea is a member of the pea/legume family known as Fabaceae. However, unlike other legumes within this plant family, rosary peas are incredibly deadly.
What Are The Active Compounds in Rosary Pea?
Rosary Pea contains a toxin known as abrin. It can only be found naturally within the rosary pea plant, and like the ricin found within castor bean, abrin is a toxic plant protein known as a toxalbumin. It's a water-soluble and stable compound, which means it can stay lethal for years. For example, a bracelet with a rosary pea seed may pose no threat, but if the seed later comes into contact with the eyes or broken skin, it could be fatal.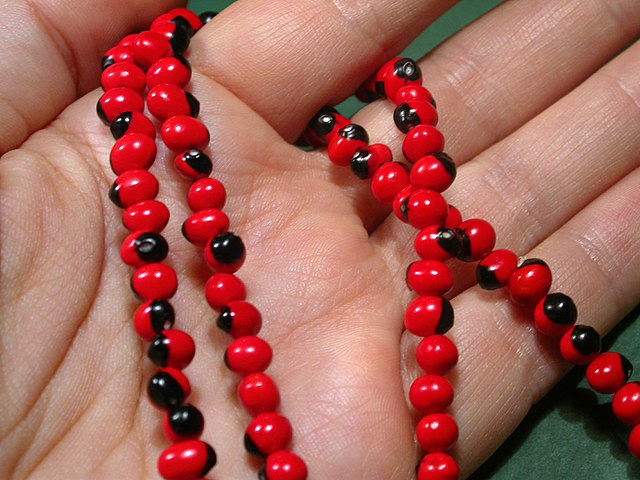 Both abrin and ricin have similar effects on the body, but abrin is considered much more lethal. Abrin can inhibit the production of proteins within our cells. Without proteins, cells cannot function and the body begins to struggle with critical functions like breathing, digestion, and blood circulation. Without treatment rosary pea poisoning is often fatal.
Rosary Pea Poisoning Symptoms
If rosary pea seeds are eaten, symptoms will begin within the first 12-48 hours. The toxin will bring on waves of extreme nausea, diarrhea, and vomiting, but it will also seriously affect the heart and respiratory system too. Chewing and consuming a single seed is thought to be enough to cause fatal poisoning through heart or respiratory failure.
Symptoms can vary depending on whether abrin is ingested, inhaled, or absorbed through an open wound or broken skin. There is no antidote, so poisoning cases are treated with procedures like stomach pumping, administering activated charcoal, and assisted ventilation.
What is the Medicinal Potential of Rosary Pea?
Rosary pea has long been appreciated in traditional medicine. The roots, leaves, and seeds are all used within recipes in Ayurveda and also Siddha medicine to treat a number of ailments. Siddha medicine is used in south India. The toxicity of the plant is well known, so the seeds are first prepared by boiling then drying. Medicines containing rosary pea are used to treat conditions ranging from respiratory illnesses and digestive issues to improving hair growth and sexual stamina.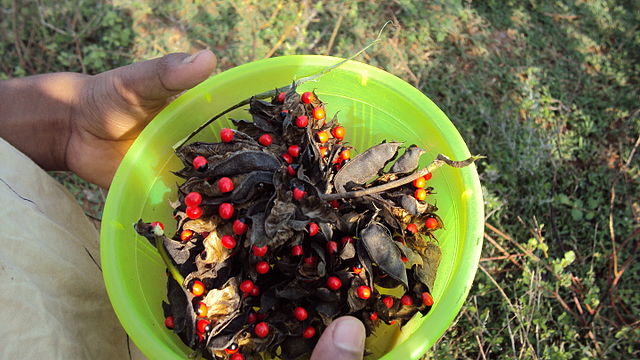 Like foxgloves, pokeweed, and the glow-in-the-dark jack-o-lantern mushroom, rosary pea may hold valuable medicinal potential. Studies have shown that abrin may have a role to play in treating some cancers.
Cultural Symbolism of Rosary Pea
The bright red color of the seeds made them a popular choice in jewelry making within many cultures. However, individuals who use rosary peas in jewelry making know to be wary of pinpricks when creating holes in the seeds as this can cause abrin poisoning. Rosary pea bracelets and necklaces can be created, and also rosary necklaces, which inspired the common name. A white variety of the seed also exists.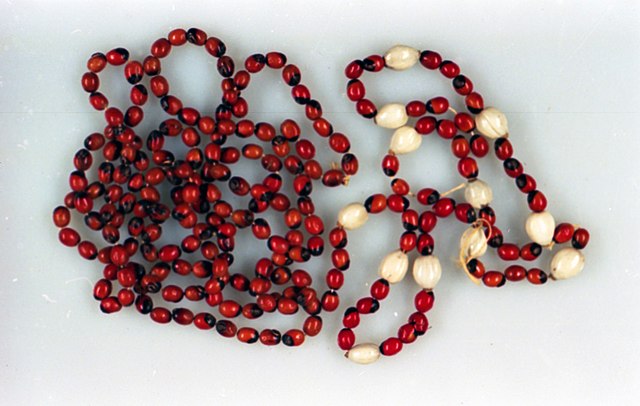 In 2012 there was an urgent recall of bracelets sold in the UK, specifically by the Eden Project (a large botanical garden in Cornwall). The bracelets were made with the seeds of the rosary pea, which put members of the public at risk. It was a massive oversight that needed the Public Health Agency (PHA) to step in.
While many appreciated the rosary pea as an ornamental, studies have shown that it has become an invasive species in many areas. In Florida, it is a prohibited plant.
What Does Rosary Pea Look Like?
Like other members of the legume family, rosary pea is a climber and it has ornamental, pinnate leaves. In late summer it has showy clusters of pink/purple flowers that soon develop into narrow pods that dry and burst open to reveal the bright red seeds.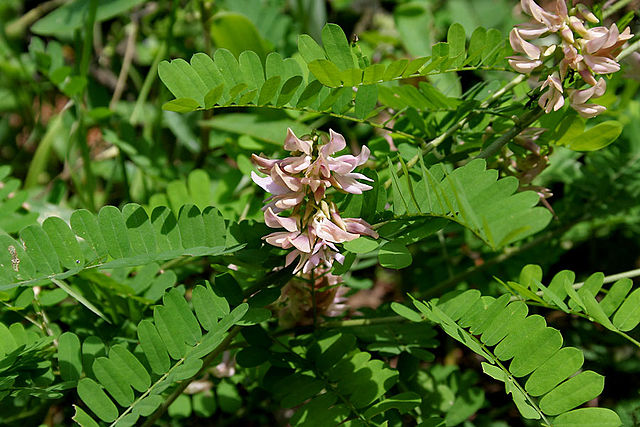 Where Does Rosary Pea Grow?
Rosary pea is a perennial plant that can establish quickly and create a deep root system — making it notoriously hard to get rid of. It's a tropical plant, but it has been found growing in a range of habitats, including pine forests in Florida.
It can grow up and over other plants which can have a negative impact when it becomes established in areas with protected plant species.
Conclusion
Rosary pea is an incredibly deadly plant that highlights just how powerful plants can be. In its natural habitat in the tropics of Asia, it can be appreciated for its ornamental appearance. However, its deadly potential and invasive tendencies have ensured that regulations are now in place for its usage or transport in other continents. While its toxicity is alarming, its medicinal potential can still be greatly valued.
Featured Image: Photo by MGB CEE on Wikimedia Commons